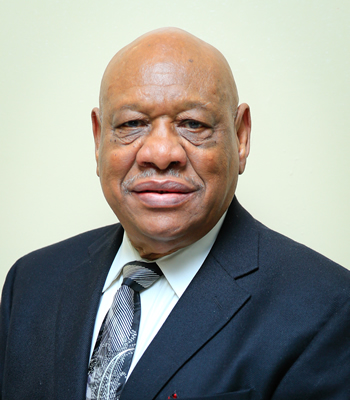 Mr. Jimmie C. Robinson, Sr. is President of the Jackson Medical Mall Foundation's Community Advisory Board. He attended Jim Hill High School and is a legendary member of the school's first football team. Mr. Robinson completed courses from Purdue University while enlisted in the United States Armed Services. He also attended Jackson State College for 2 years.
As a member of the United States military, Mr. Robinson received an honorable discharge after completing 5 years of service. During his tenure, Mr. Robinson served in the Korean War where he was named Army Squad Leader and Platoon Sergeant, and went on the receive the Good Conduct Medal and National Defense Badge.
Professionally, Mr. Jimmie Robinson was a valuable employee at Ferguson's Furniture Co. where he served as chauffeur for 13 years and was promoted to: Warehouse Assistant, Warehouse Manager, Assistant Shipping Clerk, and Sales Manager. Robinson's dedication and skill led him to become Marketing Buyer for 5 of the company's stores with over $1 Million in purchases. After the closing of Ferguson's Furniture Co., Robinson was able to capitalize on his experiences and started his own furniture store, Factory Liquidation Furniture, on November 17, 1989.
Mr. Robinson is an active, vocal member of his city, church and community. He is currently President of the Virden Addition Community Association, a member of the City of Jackson's Planning & Zoning Board, a Deacon at Cade Chapel M.B. Church and a member of several other boards, commissions and organizations. Mr. Robinson is married to his wife of 61 years, Mrs. Lyneal W. Robinson. Together they have 5 children, 22 grandchildren and 26 great grandchildren.