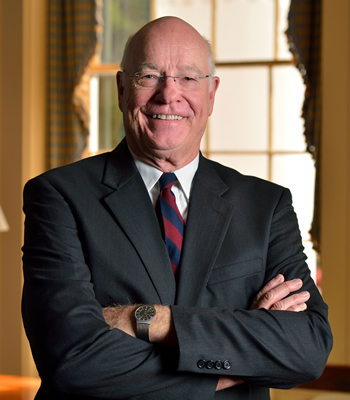 Dr. James E. Keeton served as the Vice Chancellor for Health Affairs and Dean of the School of Medicine at the University of Mississippi Medical Center (UMMC) in Jackson from 2010 to 2015. As the chief executive officer of UMMC, he was responsible for the academic and administrative operations of five health professions schools and a health system at Mississippi's only academic health sciences campus. Prior to his appointment on February 18, 2010, Dr. Keeton held the administrative positions of interim vice chancellor, chief of staff to the vice chancellor, and associate vice chancellor for clinical affairs. Dr. Keeton continues to hold appointments as professor of surgery and pediatrics.
A native Mississippian, he graduated with the Bachelor of Arts from the University of Mississippi in 1961 and a doctor of medicine in 1965 from the University of Mississippi Medical Center. Following residencies in general surgery and urology at UMMC, Dr. Keeton spent one year in pediatric urology residency in London, England. Dr. Keeton served two years in the Medical Corps of the United States Navy at the rank of lieutenant commander. He returned to Mississippi in 1970 where he has since served the state in both academic medicine and private practice. Dr. Keeton is a fellow of the American Academy of Pediatrics and certified by the American Board of Urology.
He and his wife, Jona, live in Jackson and are the proud parents of two children and four grandchildren.