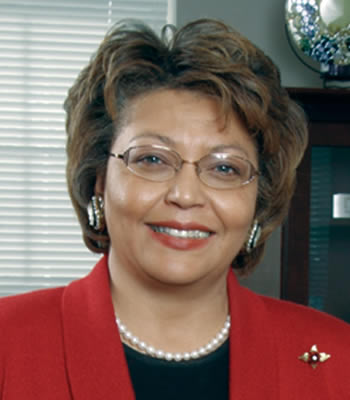 Dr. Beverly Wade Hogan is the Chair of the Jackson Medical Mall Board of Directors. Dr. Hogan made history when she became the first female president of Tougaloo College in Tougaloo, Mississippi. Hogan was appointed to the post after serving just one month as interim president. President Hogan held numerous high profile positions in state government prior to returning to her alma mater where she was the director of the George and Ruth Owens Health and Wellness Center.
Hogan earned her Bachelor of Arts degree in psychology from Tougaloo College and masters in public policy and administration from Jackson State University. She has done additional studies in clinical psychology at the University of Mississippi and University of Georgia. She engaged in further doctoral studies in human and organizational development at Fielding Graduate University. She holds Honorary Doctorates from Wiley, Rust and Benedict Colleges and Brown University, and has earned numerous professional certificates in leadership development, organizational management and administrative law.
Active in an array of professional and civic organizations, Hogan serves on various boards, including Bancorp South, Sanderson Farms, the Jackson Medical Mall Foundation, and RAND's Gulf States Policy Institute. She is also a member of the national board of directors for the United Negro College Fund. Hogan was appointed by President Barack Obama to serve on the President's Board of Advisors on HBCUs. She is also a founding member and former president of the Central Mississippi Chapter, National Coalition of 100 Black Women, and a member of Alpha Kappa Alpha Sorority and the Links, Inc.
She and her husband Marvin have two adult sons and six grandchildren.